Meet our Student Trustees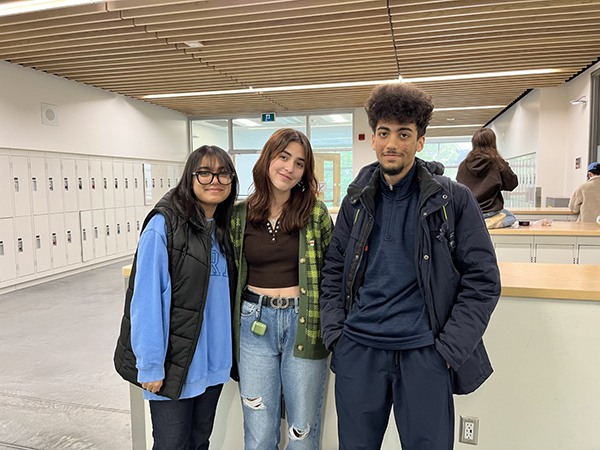 November 20th marks National Child Day: a day dedicated to celebrating young people across the country. It is also a day devoted to uplifting their voices and ensuring that we each do our parts to keep our kids safe, happy, and cared for.
In honour of that sentiment, we wanted to introduce you to some of the students who have committed to advocating for their peers: the new Student Voice Trustees.
Student Voice is a program run out of New Westminster Secondary School, organized by teacher Stacy Brine. The students involved are committed to engaging with and supporting their peers, as they do things like create and share surveys, organize the secondary and middle school annual symposium, drive or support student advocacy projects, present to and engaging with the Board of Education, and more.
The goal of Student Voice is simple: ensuring students of all ages and backgrounds are heard!
---
As leaders in their school, student trustees continue to show us that they are deeply passionate about the work they do, and about their mission. But don't take it from us, here's a little introduction that each of the Student Trustees shared with us …

Shantei Leal, grade 11.
"Hello, I'm Shantei Leal and I am currently in grade 11 at NWSS. I'm really passionate about being able to help others, even in the tiniest of ways. When I first discovered Student Voice, I immediately appreciated how students were being given the chance to share their concerns and ideas with the reassurance that people in positions of authority would hear those same concerns. This would eventually create a positive change of some sort. In being part of the leadership of Student Voice, I'm extremely passionate about mental health and student support because I believe that positive learning experiences stem from a balanced and healthy class environment."

Ora Khan, grade 11.
"Hello! My name is Ora Khan, and I am in grade 11. I'm a member of Student Voice and I have had tons of opportunities to connect with so many people! For example, being able to take action on things such as the safety of the students has always been something I've stood by for. As a person willing to create a better community in our school, Student Voice definitely feels like a step forward."

Porya Dashtipour, grade 12.
"Greetings! My name is Porya Dashtipour, and I am currently attending Grade 12 at New Westminster Secondary School. I'm a Software Engineer, and my involvement with Student Voice has been over a year, and in the current year (2022), I have decided to take on more responsibility and become a Student Voice Trustee. Technology in recent years has become the primary resource in teaching the curriculum or a protocol for fast communication between the teacher and the student. The leading cause of my entrance to Student Voice is my acknowledgement of modifications and refinements essential for the high school student's access to technology, hardware, and network connectivity. My involvement and principle consists of providing a better technology-based environment for the students. A more promising technology-based environment will permit students to brainstorm and have a painless time dealing with the specialized side of technology. I'm very enthusiastic and optimistic about the future changes that the other trustees and I will bring into the future of New Westminster School District."

Maria Jiang, grade 12.
"I love being involved and being a part of my school community. Being a member of Student Voice and my role as Student Trustee this school year gives me the opportunity to take initiative. I can express my opinions regarding my education and educational surroundings that may otherwise not be heard. I am especially passionate about student support like educational counselling, mental health, and safety. Additionally, this club has helped me to foster important skills such as leadership, teamwork, and public speaking, which are all essential for success."